Custom built computers designed to your specific requirements. For gamers, home users or business..
Fast and reliable systems built to last. Prices start from a little as £598.80 for a i3-12100 (3.3Ghz) quad core 12th Generation intel tower PC including a high speed Nvme m.2 SSD, 16Gb DDR4 memory and an additional 1Tb backup drive as standard.
Screen, Desktop and speakers add-ons are also available - please ask. Windows 11 ready with TPM 2.0 support
Installation Service available - We will put everything together, get it working, get you connected to the internet/network and establish or re-establish your email.
Data Transfer available - we can transfer all your personal information e.g. email, address book, documents, pictures, music, templates etc.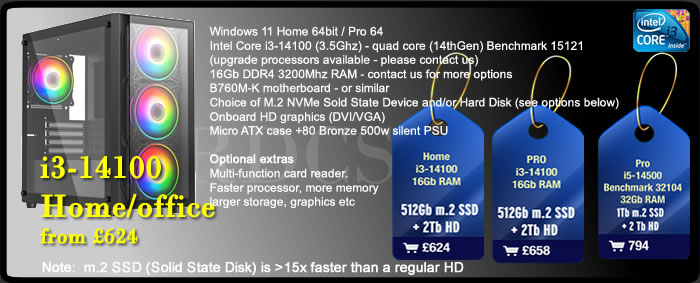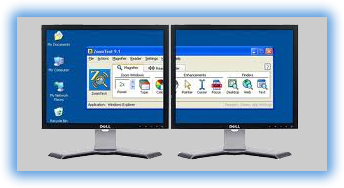 Dual or quad screen options available - please ask
All systems will be quality assured using the latest diagnostic software, ensuring quality and durability.
The components are of the highest quality and CE approved.
Our brochure details all the upgrade options, add-ons or alternatives. 

You may need Adobe Acrobat Reader to view the PDF brochure. Download Adobe Acrobat Reader here.
Computer Installation Service
Just bought a new Computer? Having trouble putting it together?
An installation service is available to both Home and Business users for RDCS computers or ANY make. 
We will un-box and set up the computer and any other attachments you want connected, such as printers.   We will also set up your internet connection, configure your personal software, transfer your data from another PC or laptop and set up your email.
---
Server & network solutions
Network configuration also available including server driven networks.
Click here for more information